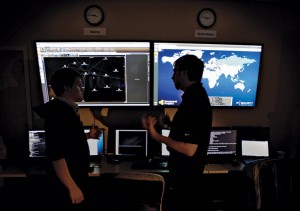 Initially it was only Facebook and Twitter that first indicated the issue of their hacking attacks in the news. It now turns out that many other companies too, have been targeted in the breach of security, though this fact seemed isolated before. In the last few days, more corporations have come out on the same issue from social media giants like Pinterest and Tubmlr to IT firms like Microsoft. Zendesk and Aple too were not left unscathed in the attacks.
Fortunately, for some these corporations in spite of employee computers being malware infected, the data on customers has not been affected and these include social media giant Facebook, and Microsoft. The customers of Apple  are safe and the organization believes that the hackers got in through a malfunctioning java plug in for the browsers. A server in hosted in Ukraine has been identified as one of the sources of attacks, which are targeting not just company secrets but also research.
The giant Microsoft is tight lipped about the incident unlike its fellow victims but it just indicated that there was some infection, similar to others but provided no further information on the issue, and it noted that, the company expected such invasions from adversaries who seem to have been persistent in their activity. In both Apple and Microsoft cases, the hackers seem to be after the same information and they used similar tactics of malware.
However, not all is fine and dandy at Zendesk as the resulting hack accessed customer email addresses and information contained within the reply support emails, which is not good for the firm and its customers. The corporation has fortunately taken the matter urgently and closed of the loophole with investigations on the culprits underway in a joint effort with the authorities. Organizations such as Pinterest and Tumblr are requesting customers who had reached out for support to verify if they had sent any personal information through them.
Do take steps to protect yourself and it clear from Apple's scenario that the software used as the loophole was java, so if want to protect your data then disabling java in your is the first step or upgrade it to a newer version. A private proxy service is another way to protect yourself by making sure that it is on at all times when on the internet, and it allows for privacy.
You can follow any responses to this entry through the RSS 2.0 feed.