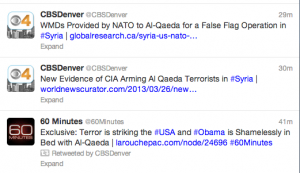 The Syrian Electronic Army, SEA has struck again! The Pro-Assad group responsible for hacking BBC's Twitter account earlier in the week hacked into the Twitter account of CBS's 60 Minutes News program. In the past, this same group has hacked Reuters Press Corps, Associated Press, and even Al-Jazeera posting pro-Syrian President Assad posts. The fake message tweeted at AP involved an explosion at the White House that injured President Barack Hussein Obama. That message caused a temporary dip in stock values until deemed false. In this hacking, the SEA group sent tweets reading, "Exclusive: Terror is striking the #USA and #Obama is Shamelessly in Bed with Al-Qaeda" and "New Evidence of CIA Arming Al Qaeda Terrorists in #Syria" as well as "WMD's Provided by NATO to Al-Qaeda for a False Flag Operation in #Syria"
The link given in the Tweet redirects a victim's computer to a web page rife with malware that ends up infecting the computer with malicious viruses. CBS discovered the problem a few hours later and removed the Tweets from their page. The SEA supports Syrian President Bashar Assad and attacks news and government agencies that they believe undermine Assad with false news stories. Most of their posts are outrageous claims that seek to tempt Twitter users to click on the link to learn more. Once the user has clicked on the site there are a number of ways that the malware can be delivered.
One way is to use several links on the site to tempt users to click again. They use pictures, videos and such. If you have clicked on one of those, or a similar link that originated in Twitter, it's best to have your IT department look at the network to ensure that you haven't compromised the entire network to avoid any mishap as precaution is always better than cure.
You can follow any responses to this entry through the RSS 2.0 feed.